Retreat & Reflection
Garden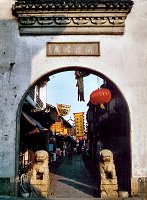 From Suzhou we drove by bus to Tongli, a charming small town which was founded during the Sang dynasty (960 – 1279). It is situated about 20 km southeast of Suzhou, in the east Chinese province, Jiangsu, surrounded by 5 small lakes. More than 40 bridges from different dynasties span the numerous canals and streams which meander through the city and gave it the "Venice of the East". On the banks houses are built right at the water's edge. There are romantic boat trips which lead through historic arched bridges and narrow waterways, and from which visitors can enjoy interesting views of the life in the city.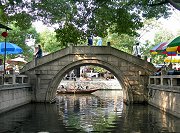 Because of its idyllic location, as well as its favourable connection to the Grand Canal, numerous aristocrats and businessmen settled here and made Tongli a cultural city. In the Ming and King dynasties alone, 38 private residences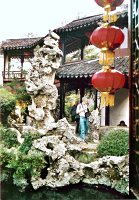 and 47 temples were established. In the alleys of the old town one can still find numerous traditional and historic buildings as well as countless shops and a rich variety of beautiful and low priced handicraft.
The heart of the city and a 'must' for each visitor is the famous Retreat and Reflection Garden (Tuisi garden), a classical Chinese garden, which was declared World Heritage by UNESCO (pictures to the left). It is a relatively small but most enchanting garden, in the middle of which is a pond with goldfish, surrounded by time honoured trees, classical pavilions and bizarre rock formations – really a place of retreat and contemplastion.