Beijing, the capital of the People's Republic of China, is the political and cultural centre of the country. The former imperial city is looking back on a 3000 year old history and houses a worldwide unique cultural heritage. Most famous sights are probably the Forbidden City with the imperial palace, the Temple of Heaven and the Summer Palace (UNESCO world heritage sites) as well as Tiananmen Square.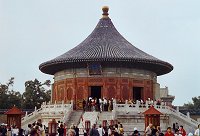 A world metropolis of 11 million people, Beijing is a city with many faces, which of course also has its problems. One of the biggest is the incredible traffic. Within Beijing itself an elaborate network of five ring roads with imposing interchanges has been developed, and further ring roads are under constructions because traffic jams are still the order of the day and the city is growing daily.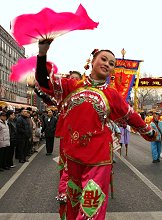 The Drum Tower in the centre of the old town, as well as the prospect hill north of the Forbidden City, present spectacular views of the historic old town and the huge modern districts, which reflect the formative influence of Western culture and determine, with their high-rise buildings, the skyline of the city. Moreover the imposing big drums were presented by an impressive performance of a drum concert.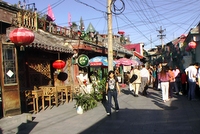 By the way of contrast the sometimes frightening condition of the houses and the poor living conditions of the people in the old town reminded us often Old Delhi. However, one can find here as well as in old traditional restaurants the old Chinese charm and of course also the beautiful red lanterns are seen everywhere you go.

China has preserved many beautiful traditions, based on its rich cultural heritage and mythology. The picture to the right was taken in Bejing on "Spring Festival" / Chinese New Year.