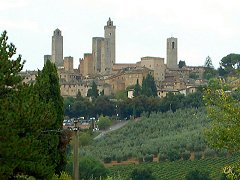 San Gimignano is a small city with about 7000 inhabitants in the province of Siena. It is situated on a hill, surrounded by the lovely Tuscan countryside. It became famous mainly through its exceptional medieval architecture, in particular its numerous medieval towers (12th – 14th century), which have survived. They rise from the small houses visible in the distance, and gave the city the nickname "Manhattan of Tuscany". 15 of the original 72 towers still dominate the almost unchanged, well preserved, historic centre. The walled city can only be accessed by the medieval city gates. Especially beautiful is the Porta San Giovanni, the main gate, which dates back to the 13th century. Since 1990 the historic centre has been on the UNESCO World Heritage list.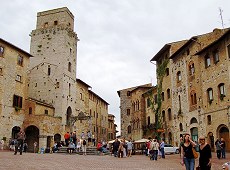 The heart of the city beats on the Piazza della Cisterna – a beautiful square surrounded by medieval palaces, in the middle of which an ancient cistern is located. There are many small restaurants, where one can enjoy the medieval atmosphere with good Italian food and drink. Of course the local white wine , "Vernaccia di San Gimignano" and "the world famous homemade ice" of the Galateria are a must when visiting here.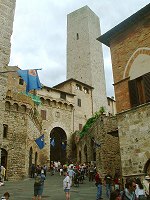 On the Palazzo del Duomo is the main church of the city, the Collegiate of Santa Maria Assunta. The former cathedral was consecrated in 1148 and is famous for its beautiful frescos. Left of the church is the Palazzo del Popolo with the "Torre Grossa" (13th century). It is the only tower in San Gimignano which can be visited and climbed. The 54 m high platform offers a spectacular view of the city and its surroundings. The palace now serves as the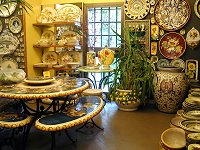 City Hall and houses the well featured municipal museum.

In countless small shops, established in the medieval streets, one can find a large selection of wines, specialities and a variety of arts and crafts, the most beautiful being the ceramics, which are a perfect dream!

It is supposed that the origins of San Gemignano go back to the 3rd century BC when it was an Etruscan settlement. The first documented mention, however, only dates back to the 10th cent. The name of the city is said to come from the holy Bishop Geminianus of Modena, who is said to have protected the city from the barbaric hordes in the 4th cent.