| | | | |
| --- | --- | --- | --- |
| | | German Christmas | |
---
Wish you a merry Christmas and a peaceful New Year, filled with happiness, joy and love.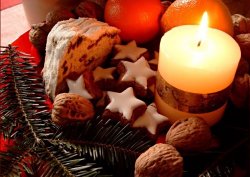 Christmas season in Germany starts with the 1st Advent, which is the 4th Sunday before Christmas Eve. "Advent" means "arrival" and is the time up to Christmas. It is a time of contemplation, anticipation and joy. People have their homes and gardens festively decorated and meet family members and friends by candle light and Christmas music. Then we eat our traditional German bread shaped cake, called Stollen, also know as Weihnachtsstollen or Christstollen. It is a made from yeast dough, usually with rosins, almonds, candied lemon peel, nuts and spices and covered with powdered sugar - yummy! And of course we like gingerbread...
A special and exciting highlight is the Christmas Markets. The place is dominated by a gigantic, richly illuminated Christmas tree. Traders offer Christmas decoration, handicraft (see below) and all sorts of other things in festively decorated rustic, wooden stalls. Christmas music is heard and of course food and drink is provided. The air is filled with fragrances from gingerbread, roasted nuts, mulled claret and countless condiments just as with the smell of fine freshly roasted meat and Bratwurst. You never could resist all the tempting offers :-)
| | | |
| --- | --- | --- |
| Christmas service Nikolai church Leipzig | Christmas decoration | |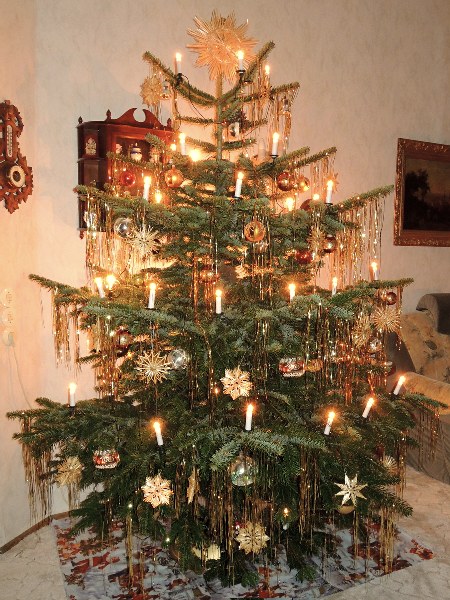 Christmas is celebrated on Christmas Eve, by tradition in the circle of the family. It is a feast of contemplation and joy, on which also the presents are exchanged. The churches offer festive divine services with Native plays as well as free concerts with Christmas music and songs, as to be seen at the picture above, and it is difficult, to get a seat. In the afternoon then the little children are impatiently looking forward to the great moment, when father Christmas (Santa Claus) knocks at the door with a big sack on his back (mainly in Protestant areas). He'll put it down and question the little ones, if they were well behaved over the year and expect them, to recite a poem or to sing a song, before handing them over their gifts. It is such a pleasure, to watch, as they answer his questions and fulfil his wishes full of awe.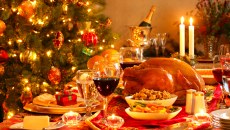 In other areas the children will find their presents under the Christmas tree. The Christmas tree is by tradition a natural spruce or fire. For this reason it is decorated only shortly before.
Christmas Eve is followed by two national holidays, which are used for visits with further family members and friends and usually are crowned by festive dinners with roast goose, turkey or venison.
---
candle bows

Christmas
pyramid

smoke man

music box

nutcracker
---
---
Christmas around the World
German Christmas Markets